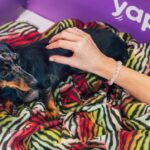 Spotlight on Yappy.com – Home to the UK's Most Famous Office Dogs?
4 July 2022
Have you ever thought about bringing your furry friend to work with you? If you have, you're not alone. Many companies are starting to allow dogs in the office, and for good reason. Here are just a few of the benefits of spending time with dogs in the workplace:
Decreased Stress and Anxiety
It's no secret that dogs have a calming effect on people. In fact, studies have shown that spending time with dogs can decrease stress and anxiety levels. This is especially important in a work environment, where stress can be high and deadlines can be tight. Having a dog around can help employees feel more relaxed and focused, which can lead to increased productivity and better work performance.
Increased Socialisation
Dogs are social creatures, and they can help humans be more social too. When dogs are in the office, employees are more likely to interact with each other and with the dog. This can lead to increased collaboration and teamwork, which can benefit the entire company.
Improved Mood
It's hard to be in a bad mood when there's a dog around. Dogs are known for their ability to make people happy, and this is especially true in the workplace. When employees are in a good mood, they're more likely to be productive and engaged in their work.
Increased Physical Activity
Dogs need exercise, and taking them for a walk during the workday can be a great way for employees to get some physical activity too. This can help combat the negative health effects of sitting at a desk all day, and can lead to increased energy and better overall health.
Improved Work-Life Balance
Bringing a dog to work can also help employees achieve a better work-life balance. Instead of leaving their furry friend at home for 8+ hours a day, employees can bring them to work and spend time with them throughout the day. This can lead to a happier, healthier, and more balanced lifestyle.
In conclusion, there are many benefits to spending time with dogs in the office. From decreased stress and anxiety to increased socialisation and improved mood, dogs can have a positive impact on the workplace. If your company allows it, consider bringing your furry friend to work with you – you might be surprised at how much of a difference it can make! Take a look at our dog friendly office toolkit for everything you need to open your office doors to dogs successfully.
Or, if you want the benefits but don't want to commit to having dogs in the office permanently, let us bring you a Moment to Paws. Find out more and watch the video here.