Laying the foundations for a great future relationship, Moment to Paws puppy classes will set you up for success right from the start. Five classes over five weeks as well as access to a private group containing supporting materials to help you to progress your training outside of the class.
Classes are designed to not only teach your puppy core behaviours in a fun and engaging way, but also how we can communicate effectively to help our pups make good choices and remain focused regardless of what is happening in the environment.
You will also receive a comprehensive training booklet providing advice on everything from interpreting your puppy's body language, how to socialise your puppy effectively and helping your puppy to be happy when left alone, to the all important training exercises.
Puppy classes are 5-week courses and focus on the foundational work to get you on the right track with your puppy from the beginning of his or her life.
These classes are for fully vaccinated puppies aged six months and below. Due to the layout of our venues, we are able to use the space effectively to ensure that all puppies, regardless of size, age and personality, feel happy, safe and secure within our class. And of course, that they are able to learn relevant to their age and stage; whether you're starting from scratch or looking to build on your existing training.
Classes are held indoors at Bramham Pavilion (with the option of using the playing field should the weather be kind to us!).
Class sizes are restricted to five, allowing Kate to give you all important 121 coaching during the class.
At a glance
---
Who? Vaccinated puppies aged 6 months or younger
---
Where? Bramham Pavilion, Freely Lane, Bramham, LS23 6GZ. Near Wetherby, West Yorkshire
---
What? 5 week class, 50 minutes per week (indoors with outdoor option dependent on weather)
---
Class size? Up to 5
---
Next class? Classes will restart in 2024
How can we help our puppies feel secure? What skills do they need to be safe when out and about? How do we build a great relationship with our puppy? How can we help them grow up to be a confident and well balanced dog?
How do we ensure we're the centre of our puppy's universe, regardless of what else is going on in the environment? How do we keep them focused on us as their confidence begins to grow?
How can we help our puppy's to understand us? What are our puppy's trying to communicate to us? What does our body language mean to our puppy…and what are they trying to convey through theirs?
4
The art of being still and calm
How can we help our puppy to control their impulses? What can we do to encourage calm behaviour?
Sit, down, stay, come back when asked, lead walking, leave it, door manners…we will cover all the foundation skills your puppy (and you!) will benefit from.
6
Preventing future unwanted behaviours
How do we stop our dogs from jumping up at visitors? How do we reduce the chances of them guarding things as adults? What can we control to make sure they have positive early experiences? What can we do to give them the physical and mental enrichment they need?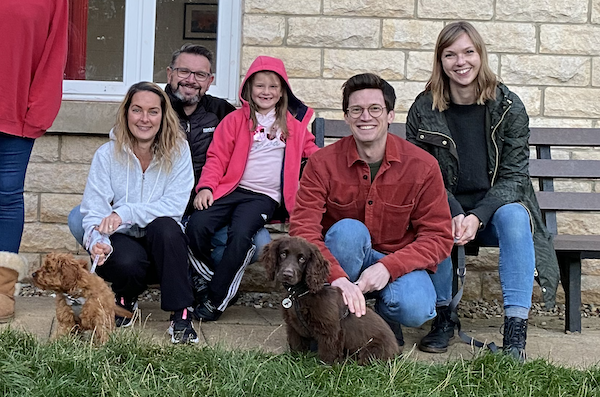 Support network in between classes
You will have access to a private group where you will receive step by step instructions after each class to help you practice the exercises at home. This is also a place where you can discuss your progress with fellow class members.
When you arrive, you'll be greeted by your trainer, Kate, who will guide you to your individual space. This will be an area reserved just for you and your dog to help everyone feel calm and comfortable right from the start. Classes are kept small to make sure we can give you all the support you need. Remember, every puppy is individual and will progress at different rates so we'll always tailor the exercises to you. Every class will involve practical training, as well as opportunities for discussion. At the end of each class, we will recap on the training for the week ahead and make sure you leave feeling motivated and confident. In between each class, you will have access to your private support network which will include step by step instructions for all exercises covered.
2
Who will be your trainer?
You will be coached by Kate Soames. Kate has worked with dogs for 20+ years and is passionate about helping people build the relationship with their dog that they've always dreamed of. Kate is an assessed and qualified member of the Institute of Modern Dog Trainers, having passed her assessment with a distinction, and is an advocate for training methods using reward and motivation based techniques. She also holds a graduate diploma in Applied Animal Behaviour.
3
Who should come to class?
Consistent communication is key to the success of your training so it's important that anyone involved in the care of your puppy has the same knowledge and understanding, including children. If a member of the household can't attend, don't forget to point them in the direction of our training videos and guides! If there are more than two people coming, please let us know ahead of time so that we can plan the space accordingly.
Your puppy's home comforts will help them to relax in class so please bring along their bed or blanket. We will be using positive reinforcement throughout class so bring a selection of their favourite treats, as well as one or two of their favourite toys. If your puppy requires any medication or has a specialised diet, please bring this along and let your coach know ahead of class.
5
What happens if I can't make a session?
Our ultimate aim is to make sure you finish the programme with the tools, techniques and confidence to move forward with your training. If you miss a session, we will do everything we can to bring you up to speed in the next class so that you don't miss out. And you will of course have access to the exercises in between sessions in your private group.
Have questions you'd like answering before booking? Absolutely no problem, contact us and we'll get back to you as soon as possible.