Importance of training at this age
Our dogs reach adolescence anywhere between the age of six and 18 months to two years. Just like humans, this is a sensitive time for our pups with intense neurological and hormonal changes taking place and you may see considerable behaviour changes too! 
At this age, puppies often become a lot more independent. They start to move further away from you on walks, get more distracted by smells and that recall that you were once so proud of may become slightly less reliable. 
Now is not the time to give up! Unfortunately this is the age where the majority of dogs are given up for adoption. But these changes are temporary and by continuing with your training during this period in a kind, fun and engaging way, you will help to guide your puppy through and really build on your existing bond.
At a glance
---
Who? Graduates of a Moment to Paws puppy class. Ages 6 months – 2 years.
---
Where? Boston Gates, Whins Lane, Thorp Arch, Wetherby, LS23 7AL.
---
What? 5 week class, 50 minutes per week (outdoor)
---
Class size? Up to 6
---
Next class? Classes will restart in 2024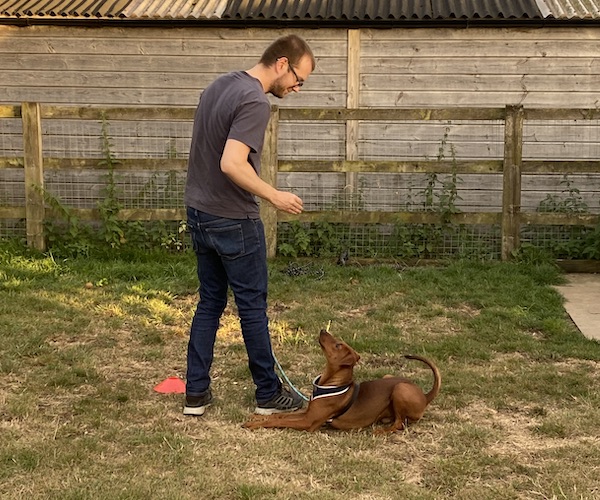 The training will include:
General obedience training
Proofing your recall around distractions
Keeping the focus and attention on you
Finessing your lead walking

 

Learning to stay still and calm
Working to control impulses
Managing frustration
Lots of fun and games!
When you arrive, you'll be greeted by your trainer, Kate, who will guide you to your individual space. This will be an area reserved just for you and your dog to help everyone feel calm and comfortable right from the start. Classes are kept small to make sure we can give you all the support you need. Remember, every puppy is individual and will progress at different rates so we'll always tailor the exercises to you. Every class will involve practical training, as well as opportunities for discussion. At the end of each class, we will recap on the training for the week ahead and make sure you leave feeling motivated and confident. In between each class, you will have access to your private support network which will include step by step instructions for all exercises covered.
2
Who will be your trainer?
You will be coached by Kate Soames. Kate has worked with dogs for 20+ years and is passionate about helping people build the relationship with their dog that they've always dreamed of. Kate is an assessed and qualified member of the Institute of Modern Dog Trainers, having passed her assessment with a distinction, and is an advocate for training methods using reward and motivation based techniques. She also holds a graduate diploma in Applied Animal Behaviour.
Your puppy's home comforts will help them to relax in class so please bring along their bed or blanket. We will be using positive reinforcement throughout class so bring a selection of their favourite treats, as well as one or two of their favourite toys. If your puppy requires any medication or has a specialised diet, please bring this along and let your coach know ahead of class.
4
What happens if I can't make a session?
Our ultimate aim is to make sure you finish the programme with the tools, techniques and confidence to move forward with your training. If you miss a session, we will do everything we can to bring you up to speed in the next class so that you don't miss out. And you will of course have access to the exercises in between sessions in your private group.
Have questions you'd like answering before booking? Absolutely no problem, contact us and we'll get back to you as soon as possible.